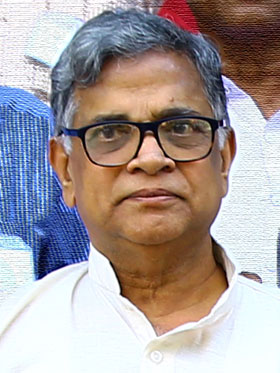 PM-0003
Late Dr. B. Neeraj Sunder Siva Rao
[1969, Mech]
Ex-Director,
Hara Industries Pvt. Ltd.
Further Academic Qualifications:
M Tech from IIT Madras in 1972.
PhD in fluid mechanics from Tata Institute (Indian Institute of Science), Bangalore in 1979.
Earlier:
He started Hara Industries in 1986 along with his class mate Sri AS Rao.
Hara Industries has executed successfully several works for Railways and Dept., of Telecom.
He was an example of Technocrat turned Industrialist and helps those who approach him for guidance.
He worked in CSIR Lab, Jorhat and developed Fluid Bed Tea drying machine.
Subsequently, for 4 years he successfully executed several contract works at Port Trust and Visakhapatnam steel plant.
He took over a sick manufacturing unit of distribution transformers (Coramandel transformers) and revived it.
Family:
He was married to Smt. Bharathi (1974, Electrical) who is also an Alumnus of our College. She is the daughter of Sri SL Bala Subrahmanyam, our ex-Principal (1965-69). She is presently Senior Technical Director at National Informatics Center, Ministry of Information Technology.
The couple was blessed with a daughter, Sai Sivani and she has done MS in Computer Sciences in California.
In specific as Alumnus:
Dr. BNS Rao was popularly known as "Neeraja". Dr. BNS Rao was one of the earliest persons to encourage formation of our Association with a promise to support it.