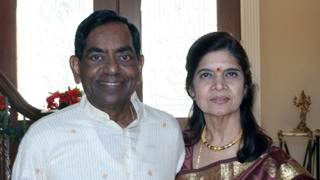 PM-0024
Sri Mutyala Bhaskar Rao
[1961, Mech]
Retd. Engineering Manager,
USA
Further Academic Qualifications:
M.S.E. from University of Michigan, USA.
M.B.A. from Western Michigan University, USA.
Presently:
Happily retired and doing social work in both US and India while spending time with friends and family.
Earlier:
Retired in 2008, after spending 24 years in the businesses.
In 1984, he started and ran small businesses in Automobile services like transmission repair franchise system, quick oil change and body repair shops.
From 1964 spent 20 years as an engineering manager in various prestigious US corporations and institutions such as NASA.
One year after graduation, worked as a lecturer in Andhra Polytechnic in Kakinada (1961 to 1962).
Family:
Married in 1967 to Ms. Sita who completed her high school a week after the wedding and continued her college education in US. B.S. in computer science from Purdue, Executive M.B.A. from University of Houston. Also she has a C.P.A. (like our C.A) license. She worked for more than 30 years in the computer field in corporations such as Chevron.
The couple is blessed with a daughter Sireesha who is a Pediatrician and a son Subhakar who is a Radiation Oncologist.
In specific as Alumnus:
At the time of Diamond Jubilee, initiated to build an auditorium in the college premises and coordinated with the alumni in US; and collected about Rs. 48 lakh ($77,300, Rs. one lakh and pledges to an extent of Rs.13 lakh). Though it could not materialize, the same is under progress in the form of an Indoor Stadium now, under the dynamic leadership of Sri Allam Apparao, Vice Chancellor of JNTU, Kakinada.