4th AGM &
Annual Alumni Meet - 2009
20-December-2009
JNTU, Masab Tank
A team of Alumni of 1979-83 batch volunteered to organise this meet. Raja Suresh Kumar, our youngest patron led his batch mates, Krishna Prasad, Srihari Babu, KB Ramakrishna Reddy and Muralikrishna Chigurupati. The meet has been arranged in JNTU (JNAFAU Auditorium), Masab Tank.
A team of about 50 volunteers (children and workforce of our alumni) were instrumental for conducting the program excellently. They were given merit certificates by the Chief Guest.
Sri B Prasadarao, CMD, BHEL (1976 batch), Dr BVR Mohan Reddy, CMD, Infotech Enterprises Ltd., (1971 batch) and Sri MT Krishna Babu, IAS (1987 batch) have been felicitated.
Our website www.ecosak-hyd.org has been inaugurated by Sri B Prasada Rao. The website has been designed within a short time and it received a great applause of the alumni. Many improvements of this website are planned to make it highly informative of our alumni, alma mater and activities of the Association.
Smt Deepika Reddy with her team presented an excellent Kuchipudi dance with Shivastuthi, Mahadeva Stutam, Bhama Kalapam, Navarasalu to the delight of every one. Kum Mihira Paturi daughter of our alumnus Sri Srinivas Paturi (1979-83 batch) participated in this presentation.
The Orchestra team gave an excellent performance and even the senior alumni danced to the tunes.
Delicious dinner with lot of traditional items received appreciation of all the alumni.
The attendance in this meet was the highest till date. 279 alumni have registered for this meet and along with their family members the gathering was more than 500. The strength of Patrons swelled by 10 making our total number of Patrons 32 and 40 alumni joined as Life Members, boosting the total number of Life Members to 202. The website and repeated invitations over SMS have achieved this result.
What our Guests spoke!
Synopsis of speech by Dr BVR Mohan Reddy, CMD, Infotech Enterprises Ltd.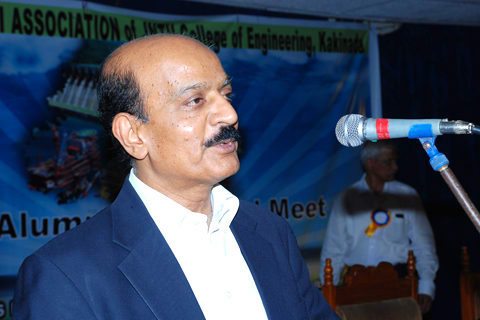 All of you must be remembering the French Curves in our set square; I made it a point to apply those curves in designing my residential building and I invite you to see and appreciate. I am all for innovation and the achievement of progress of my company which transcends nationality. As of now, in 26 countries our products and services find place. My revenues come from exports to the tune of Rs 200 crores. I started my company with four engineers and my dining table was my office then. Now I employ nearly 7500 staff and at least 5000 families make out their lifestyles today.
I remember the values inculcated by my Prof. Giri Rao and what he said:
If money is lost nothing is lost because you can always get it;
If health is lost something is lost but with some proper medical help, you can regain the same in due course;
However, if character is lost everything is lost forever.
I remember these words and repeat the same to myself over 100,000 times. Please keep the values on high alert in your career and that is my appeal to all juniors.
Summary of speech of Sri MT Krishna Babu, IAS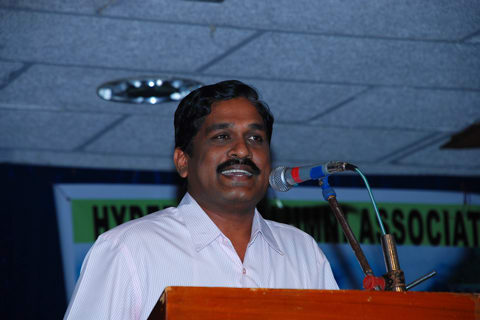 I always think the embarrassment we face when we approach a petty officer in the Government and despite being 'what you are' he ignores you and expects some favours from you in cash or kind. This situation is the unfortunate development in the socio economic scenario of our country. I make efforts how small it may be to reverse this ugly trend in dispensing official responsibilities. Please do not hesitate to approach me for any problem you face in my field of activity.
My message to the juniors is to inculcate social responsibility in discharging your duties.
Brief of the speech delivered by Sri B. Prasada Rao, CMD, BHEL, Chief Guest
I recall my memories of our Engineering College, Kakinada. When I wanted to join Engineering, my brother who was already an engineer discouraged me by telling that 'engineering is a difficult job and better pursue any other stream'. I therefore joined B.Sc., but I hated to continue and finally left the course; and joined Kakinada Engineering college. Those were the days when the engineering course underwent reforms such as semester system and internal assessment etc., which as students we resisted. However, things prevailed. I joined BHEL, with the advice of my mentor who was 20 years senior to me. However, I was vacillating whether to continue the job in BHEL or not. Once again my mentor advised me to continue in BHEL and I followed his advice which made me 'what I am today'.
After my engineering degree, I joined NITIE in Bombay and I was the first ever student of that Institution from Andhra Pradesh. This is due to lack of information about the existence of such an institution among the engineering graduates. I therefore wrote to the principal of Kakinada College to encourage the students to join NITIE and during the next year there were six students who took up courses at NITIE. Such were those days. We used to refer our alma mater as Kakinada IIT.
I still remember the cinemas we were seeing in Kakinada with all the cinema halls located in a single street and especially, Satya Gauri talkies for its comfortable arm chairs in the balcony category. The sweetened groundnut balls (chikki) as a delicacy remains afresh in my memories of those times. The small huts where we used to drink beverages and the general environment of bonhomie among colleagues ever remains in my fondest memories of becoming an engineer of sorts.
The teaching staff though appeared tough, supported us during crisis situations. When Dasara vacation was cancelled due to some administrative exigencies, we all the mechanical branch students just disappeared during Dassera. However, we had to face some consequences of our action which as we see today as condescending to our whims.
My advice to the younger generation of engineers is to persist on human endeavour to achieve innovative spirits and carry on with the zeal of bettering the society to transform the same into a viable happy lifestyle for many.