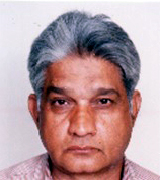 LM-0096
Sri Syed Allah Baksh
[1968, ECE]
Retd. Professor & HoD,
Dept. of IT,
Deccan College of Engg. & Tech., Hyderabad
Awards & Achievements:
State First Rankat SSLC.
University Second Rank at BE.
Started the ECE Dept., and Established All the Labs for 4 Years at MJCET, Hyderabad.
Presently:
Residing at Rochester (USA) with Green Card
Earlier:
Worked as Lecturer at HKE Engg. College, Gulbarga for 10 Years.
Worked as Professor & HOD of ECE at MJCET, Hyderabad for 4 Years.
Worked as Maintenance Engineer at MESCO, Riyadh Saudi for 2 Years.
Worked as Lecturer in College of Computers & Information Systems, King Saud University, Riyadh, Saudi Arabia for 13 Years.
Worked as Professor & HoD of CSE/IT Depts. at Deccan College of Engg. & Tech., Hyderabad for 16 Years.
Family:
Wife retired Lecturer in English from City College. Residing at Rochester with Green Card.
Have 3 sons.
Eldest one MS in Computer Science from US and settled at Edmonton, Canada as Senior System Analyst.
Second one MBBS from MNR Medical College and seeking admission into Residency with Green Card at Rochester, NY.
Third one completed BS in Computer Information Systems from Brockport College at Rochester, US citizen working at Clarado Software Ltd.