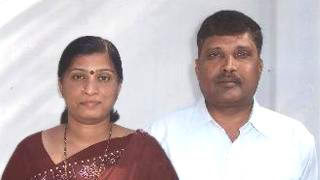 PM-0026
Col. Guduru Ravi Kumar (Retd.)
[1978, Mech]
Chief General Manager (Maintenance)
Dangote Industries Plc, Nigeria
Further Academic Qualifications:
MBA from IGNOU.
Executive Management Program from IIM, Lucknow.
PG in Mechanical Engineering from MS University, Baroda.
Graduated from Tank Higher Engineering Academy, Kiev (erstwhile USSR).
Undergone Technical Staff course from Defense Institute of Advanced Technology, Pune.
Specialized in Automobile engineering, Armament technology, Armoured Fighting Vehicles and Laser based instruments.
Artistic, Sports & Other Skills:
Qualified mountaineer from ITBP Institute of Mountaineering, Auli (Uttaranchal).
An avid Squash Player and an adventure activist.
Pursues the hobbies of Stamps/Coin collection.
Travelled extensively and served in all types of terrains. During his Army career, took part in several operations including Kargil War and served in Siachen Glacier, the highest battlefield in the world.
Organized/conducted No. of National level seminars while in service.
Served on the Management Committee of Baroda Management Association for Two consecutive years 2003-04 and 2004-05.
An active life member of SOCLEEN (Society for Clean Environment)
Awards & Achievements:
Thrice commended by the General Officer Commanding-in-Chief on the occasions of Independence / Republic Days in 1999, 2000 and 2003 for extraordinary dedication displayed during Operation Vijay, professional excellence, planning skills and devotion to duty.
Presently:
Working with M/s Dangote Industries Plc, Nigeria as Chief General Manager (Maintenance), since September 2015.
Fellow of Institution of Engineers (FIE).
Life member of SOCLEEN (Society for Clean Environment), Vadodara.
Earlier:
Worked for one year with Neyveli Lignite Corpn Ltd (Thermal Power Station) as a Junior Plant Manager till August 1979.
Served in the Indian Army for 30 years till Feb 2009. Significant Technical Contributions while in Army:
Conceptualized, prepared and implemented 'Standard Operating Procedures' for optimum utilization of resources (Armaments and Armored Fighting Vehicles) towards 'Operational Readiness state' of the field forces.
Streamlined the process of training, systematic review/upgradation of syllabi of courses while serving with a large Technical Training establishment. Was instrumental in obtaining AICTE recognition for the Diploma courses conducted in the Army.
Established the overhauling facility for the sophisticated Laser Range Finder of Tank T-72.
Contributed towards Long and Short-term preservation techniques of high value war equipment like Tanks, Armaments.
Organized/conducted National level seminars on Bio-medical equipment in 2000, Armament Technology in 2002, and Quality Management in 2004.
From Mar 2009 to Jun 2011, served with M/s Jaiprakash Associates Ltd., overseeing the prestigious tunnel boring project (a 45 Km underground tunnel of 10 mtr. Diameter) emanating from Srisailam reservoir and terminating at Devarakonda.
Contribution to the Society:
Regularly contributes to many philanthropic organizations and social causes.
Championed various environmental issues as an active member of SOCLEEN (Society for Clean Environment) in the state of Gujarat.
Associated with a few charitable organizations through financial contributions, mobilization of resources and voluntary services.
Family:
Married to Mrs. Padmaja
Two children; son Kartik, an entrepreneur, managing a Startup and daughter Shri Ashwini is a Lawyer.
In specific as Alumnus:
Secretary (2014 & 2015) in the Hyderabad Alumni Association of JNTU College of Engineering Kakinada and was also on the Executive Committee of ECK Alumni Association as an ex-officio member.
Member of a voluntary group of Alumnus for instituting financial aid to economically deprived students of the Alma mater on the occasion of its Platinum Jubilee, through personal contributions.