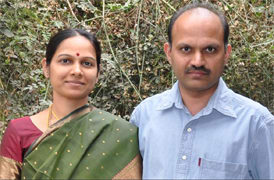 PM-0030
Sri NVS Vidyalankar
[1988, EEE]
Vice President and Practice Head – Utilities,
InfoTech Enterprises Limited
Further Academic Qualifications:
Masters from REC (NIT) Trichy
Presently:
Vice President and Practice Head – Utilities,
InfoTech Enterprises Limited.
Part of a core team which developed a product that was used to automate real-time electrical load dispatch operations of several states in the southern and western parts of India.
Started an off-shore development centre for one of the largest multi-nationals in the world - from being a one man army to one of the most successful centres for their transmission & distribution lines of business.
Working in the current organization to help them expand their portfolio in utilities market in large scale IT implementations.
Family:
The Couple is blessed with a son and daughter doing their High School Education.