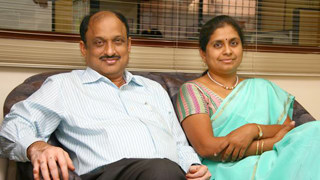 PM-0035
Sri Anumolu Krishna Prasad
[1983, ECE]
Managing Director,
Linkwell Telesystems Pvt. Ltd.
Presently:
Established Linkwell Telesystems Pvt Ltd in 1992 and heading the company as Managing Director. He promoted Linkwell Telesystems to manufacture Telecom products with indigenous technologies. The first product was the low powered PCO Call monitor with station name display under the brand name "VISIONTEK".
Since its inception he chose the path of innovation to develop new products. He built a team of people and motivated them to achieve new mile stones for the organization.
Under his supervision, over the years, company has developed various wire and wireless technology products to become a market leader in various segments. He manages the overall growth and is the driving force in the success of the organization.
In specific as Alumnus:
With his 4 (Four) classmates, he organised the meet on 20th December, 2009 which was a grand success and praised by all.
He was instrumental in launching this website www.ecosak-hyd.org of the Association.