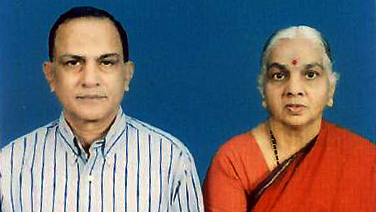 PM-0059
Sri Dandu Visweswara Raju
[1966, Electrical]
Director,
Jisnu Communications Ltd., Hyderabad
Further Academic Qualifications:
M. Tech (Electronics) from REC Warangal (1968), University 2nd Rank in Osmania University
Awards & Achievements
(Professional & Engineering):
Distinguished Achievement Award, from ISRO, Govt. of India, 1976.
Hind Gaurav Award, 1995.
National Corporate Excellence Award for 1995.
Best Exporter Award from Indian Council for Medium & Small Industries, 1996-97.
Best Export Effort Award 1996-97 from Federation of Andhra Pradesh Chambers of Commerce & Industry (FAPCCI) on Jan 10, 1998.
Special Recognition Award– 1997 (Small Scale Entrepreneur) from Govt. of India on 17 April 1999.
Presently:
Director (Tech), Jisnu Communications Ltd.
Fellow of Institution of Electronics & Telecommunication Engineers.
Fellow of Indian Geophysical Union.
Life Member of Indian National Cartography Association.
Life Member of Indian Society for Remote Sensing.
Earlier:
Dy Director, National Remote Sensing Centre, ISRO, Govt of India.
Managing Director, Susee Spacetek (P) Ltd. Hyderabad.
Director, Ananth Technologies (P) Ltd.
Director, Indian Resources Information & Management Technologies (P) Ltd.
Director, Titan Solar Systems.
Initial stages:
Post M. Tech, joined the Indian Space Research Organisation (ISRO), Dept. of Space in November 1968 at Thiruvananthapuram (Kerala) as Head, Spacecraft Telemetry systems.
Established ISRO SATELLITE CENTRE in Bengaluru in September 1972 along with Prof. U.R. Rao, former Chairman – ISRO & Secretary, Dept. of Space, Govt of India.
Held several important positions in ISRO as:
Head Spacecraft Telemetry Systems.
Dy. Head- Spacecraft Electronics Division.
Dy. Project Engineer – Rohini Satellite Programme.
Project Manager – APPLE Communication Satellite Programme.
Has the distinction of becoming one of the top Space Scientists in Satellite Technology with the Design/Development/Launch of the first Indian Satellite ARYABHAT.
Moved over to National Remote Sensing Agency, Dept. of Space – Hyderabad in April 1978 as Head Satellite Earth Station Division. Setup the First Indian Land Satellite Earth Station in 1979 at Shadnagar, near Hyderabad for receiving Remote Sensing (Resources) data from American Satellites, thus India becoming the Fifth Nation in the world to receive Earth Resources Data on Agriculture, Forestry, Geology, Water resources, Fisheries, etc.
Became the Deputy Director of NRSA in 1982, Scientist 'G' in 1986 and executed several important projects like French SPOT Earth station, the first Indian Remote Sensing Satellite (IRS-1A) Ground station & Earth Station for ESA's Microwave Satellite Earth Station.
As Dy. Director, was also responsible for Aerial Remote Sensing Activity with 4 Aircrafts & associated Scanners, Cameras & other instrumentation.\ISRO Coordinator for the European Space Agency's Microwave Satellite Ground segment in India.
Business:
Left the Govt. of India Service on 31.12.1992 and started "Susee Spacetek (P) Ltd" in July 1993, for manufacturing Hi-Technology products mainly for import substitution. Exported very specialized systems to U.S.A in 1996-97.
Currently involved with development of several Communication and Data Acquisition & Control products used in both Satcom & Telecom disciplines.
Contribution to the Society:
Advisor: Kakinada Musical Group, Hyderabad.
Advisor: ACT (Art & Cultural Trust for Exceptionals/Disabled).
Former Vice - President: Sri Alluri Sitarama Raju Smaraka Samithi, Hyderabad.
Former Secretary: The Kshatriya Seva Samithi, A.P.
Former President: The Kshatriya Seva Samithi, A.P.
Founder Chairman: The Federation of Kshatriya Seva Sanghams, A.P.
Former Gen. Secretary: National Association for the Blind, A.P.
Former Vice-President: National Association for the Blind, A.P.
Former Vice-President: Indian Association for the Visually Handicapped, A.P.
Family:
Married to Ms. Sita Devi (68 yrs & maternal uncle's daughter) on 27-28 April 1961; House-wife.
Only Child/Son D V Krishna Raju, B.Com., L.L.B, died in March 2004 at the age of 39.
Daughter-in-law D Vijaya Sree (44 yrs); House-wife.
2 grandsons: D. Viswa Ravi Teja Varma (22yrs), graduate & employed in Hyderabad. D. Rohit Varma (19 yrs), B.Tech-II (ECE), MRCET, Hyderabad.
In specific as Alumnus:
Very happy to have been contacted by GS Rama Rao for the last year's meeting at JNTU-H and myself prompted 4-5 of my batch-mates to attend. It was an impressive gathering with participation of a few NRIs.