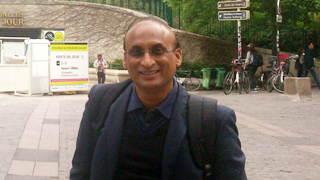 PM-0065
Dr. Morampudi Chandra Sekhar
[1977, Civil]
Chief Consultant/MC Design House & Professor/MGIT
Further Academic Qualifications:
Artistic, Sports & Other Skills:
Awards & Achievements
(Professional & Engineering):
Received Outstanding Structural Engineer Award from ICI-AP Hyd Centre in 2005 for designing new Gandhi Medical College & Hospital Complex.
Presented 2 Papers on Structural Behaviour of Hybrid & Glass fibre Reinforced Self Compacting Concrete Wall Panels"" as part of Ph.D along with Guides in 8th RILEM at University of Minho, Guimaeres,Portugal in 2012.
Presented an invited paper ""Twin-Lake View Tower"" an eco-based mega tourism project connecting 2 drinking waterlakes of Hyderabad in CINFRA-an annual Civil Engineering Symposium of MGIT."
Awards & Achievements
(Artistic, Sports & Other):
Won Tennis doubles Club Championship in Jubilee Hills International Centre, Filmnagar Cultural Centre, L&T Serene County Residential Township & Asif Tennis Club in Hyderabad in the last 5years.
Presently:
Established Engineering & Architectural Consultancy Organisation in 1989 after resigning from Govt. service and currently involved with planning & designing of University Buildings and a one-of-its-kind Commando Training Centre & sports facilities at various places in AP.
Teaching Theory & Analysis of Plates & Shell Structures for PG Students as Professor of Civil Engg at MGIT. Also teaching at JNTUH as guest faculty.
Earlier:
As consultant involved with development of healthcare under ""AP First Referral Health Systems Project""- a World Bank Funded Govt. Hospital development project.
Planned & Designed Rehabilitation Centres for Social Offenders at Charlapally,Hyd & Visakhapatnam(Modern Jail Project)and entry accepted for Prime Ministers National Award for Urban Designing.
Planned & Designed Heavy Industrial Workshops and Coal Handling Plants for Northern Coal-Fields Ltd and KTPS-Stage V(2x250MW).
Prepared DPRs for NHAI projects of NH-7(on either side of Hyderabad), NH-31(Assam), NH-7(Maharastra), NH-39(Nagaland), NH-52B(Assam & Arunachal Pradesh), NH-6(Orissa) and NH-228(Gujarat-A Mahatma Gandhi Heritage Project).
Contribution to the Society:
Instituted 2 Gold Medals in JNTUH for best out-going UG Civil & PG-Structures Students.
Instituted 1 Gold Medal for best Out-going UG Civil Student in Osmania University.
Instituted 2 Gold Medals for best out-going UG-Civil Students gender-wise in MGIT.
Planned & Designed ""Home for Aged"" for Chandra Rajeswararao Foundation in Hyderabad.
Adopted 5 Street children as part of Child & Police Project initiated by Dr.Reddy Foundation.
Promoting Lake-View Tennis Academy in association with 3 reputed Tennis Coaches near APPA.
Purchased land for Community development under TTD in the native village in Krishna District.
Fully sponsoring Higher Education studies for min 1 student each year since last 2 years.
Family:
Blessed with two sons (Mani Chandra & Siddhardh Chandra).
Currently both are pursuing Ph.D in Astro-Physics & Condensed Matter at UIUC/USA & Max Planck Institute of Physics for Complex Systems, Dresden/Germany respectively after winning honors in 5-yr Integrated M.Sc (Physics) at IITKanpur-chosen by themselves under deep interest in Physics in 2011 & 2012 respectively.
Got separated from wife after 30years for leading independent life styles and mutual freedom.
Lives with mother at Hyderabad.