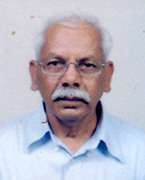 PM-0070
Wg. Cdr. Dronadula Koti Reddy (Retd.)
[1967, Mech]
Professor, TKR Engg. College
Further Academic Qualifications:
Presently:
Professor, TKR Engg. College
Earlier:
On completion of Engineering degree at Kakinada, worked as Lecturer at our Kakinada Engg College.
Served in IAF for 22 years, and voluntarily retired in the rank of Wing Commander.
Factory Manager of Battery manufacturing factory of Solar energy company, in Jeedimetla, Hyderabad for 5 years.
Software Engineer for 13 years in USA.
Associate Professor in TKR College of Engineering at LB Nagar, Hyderabad, for 2 years.