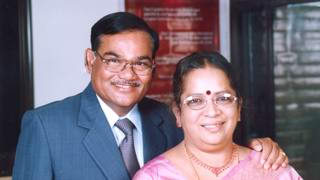 PM-0021
Sri Chodagam SYS Sankar Rao
[1970, ECE]
Managing Director,
Titan Energy Systems Ltd.
Awards & Achievements:
Member and Fellow of various professional institutes.
Incidentally, he is also a Member of SEMI India PV Advisory Committee that is instrumental to have the Solarcon 2009 in Hyderabad.
Presently:
Founder & Managing Director, Titan Energy Systems Ltd., India. He is a first generation entrepreneur. Titan Energy Systems Ltd., has its only focus on Solar Photovoltaics manufacturing and setting up of Off Grid/On Grid Solar Power Plants.
He traveled extensively all over the world gaining insights into various technologies of the Renewable energies and chosen to focus on Solar Photovoltaics that has fuel from Sun GOD - which is Never Ending and Ever Lasting.
Titan Energy Systems had a history of twenty years with start up at 1.0MWp manual capacity that had grown to 100 MWp semi-automated facility currently.
Earlier:
He handled various technical, research and administrative responsibilities in Government and Public Sector Units for over 20 years.
During his tenure in Government, led the team that established the engineering and commissioning of the telemetry and telecommunication network from among all the un-manned well platforms of Bombay High, owned by ONGC through power generated by stand alone Solar Photovoltaics Generators in 1979 itself.
In specific as Alumnus:
President (2012 & 2013) in the Hyderabad Alumni Association of JNTU College of Engineering Kakinada.