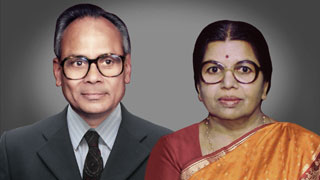 PM-0089
Smt. V. Lakshmimani
[1954, Civil]
Professional Achievements:
The First Lady Engineering Graduate of the Engineering College, of Andhra University and of Andhra Pradesh. After passing intermediate with distinction in 1950, by following her father's advice she joined Engineering College. After passing BE (Civil) in 1954, She joined as a Junior Engineer in the Office of Special Chief Engineer, Irrigation Department, Kurnool.
She married her classmate Sri Varanasi Srirama Murti in 1955. They became the First Alumni Couple of the Engineering College Kakinada.
In January 1958, she joined as a Design Engineer in the Central Water and Power Commission (CWPC) at Delhi. She worked mostly in Designs and Research Wing associated with designs and drawings of barrages, dams, canal systems and power plants of Multipurpose River Valley projects in India.
Some were power dam block and power plant aspects of Nagarjuna Sagar Project, Godavari barrage, Kosi barrage, Rana Pratap Sagar and Jawahar Sagar projects on Chambal, Mahanadi dam and canal systems and Birupa barrages and canal systems, Sutlej-Yamuna link system, etc. She also worked on the hydroelectric projects in Nepal and Bhutan.
She worked on technical examination of civil works of the projects from feasibility reports to design and construction reports for clearance from Central Government at various stages of the projects.
She worked for three years in Hydrology and River Management Wing, In-charge of River Systems, from river Krishna and below in Southern India. Flood forecasting, on rivers Krishna, Penna and Cauvery was a crucial work.
The Central Water and Power Commission (CWPC) separated into two main organizations, namely Central Water Commission (CWC) and Central Electricity Authority of India (CEA). She retired as Director in Central Water Commission (CWC) in 1991.
Her husband and her classmate, Sri Varanasi Srirama Murti, was a Gold Medallist in 1954 Examinations. He started his service in June 1954 as an Assistant Instructor in Civil Engineering in the Engineering College of Kakinada. He joined Central Public Works Department of India (CPWD) in September 1956 through All India Engineering Services through UPSC.
He was in both design and construction work. In Delhi exhibition grounds i.e Pragati Maidan some interesting structures like Halls of States, Science and Technology, African and Arab Pavilions, Indoor Stadia, Sports Complexes were constructed on war footing in record time for Asian Games in 1982 and for International Trade Fair. His work as Chief Engineer in Bhutan as well as in Arunachal Pradesh for overall developmental works of those hilly regions were very much appreciated.
He retired in 1990 as a Member Engineer in Delhi Development Authority (DDA).
He was a visiting faculty member, guide and jury member to Post Graduate students in School of Architecture and Planning, Delhi.
He was in various consulting assignments/committees in Delhi Development Authority (DDA), Delhi Administration, Central Public Works Department of India (CPWD), Consulting Engineers Association of India (CEAI), Association of Urban Management and Development Authorities (AMDA), Indian Building Congress (IBC), Consultant Engineer to Apollo Hospitals Group and various Government Arbitrations.
A biggest tragedy in their life, Sri Varanasi Srirama Murti was one among the several innocent victims of the serial terrorist bomb blasts on 29th October, 2005 at Sarojini Nagar, New Delhi.
Posthumously he was awarded by Indian Building Congress (IBC) with "The Lifetime Outstanding Work Contribution Award" on 17th June 2010.
Smt. V. Lakshmimani with her advancing age and the emotional landmines that shook her life may have slowed her pace, but she never stopped smiling.
The First Alumni Couple of the Engineering College have four good natured sons having higher education and in very good positions.
In specific as Alumnus:
Life Member (16-07-2006 to 09-11-2018), Patron (Since 10-11-2018) in the Hyderabad Alumni Association of JNTU College of Engineering Kakinada.