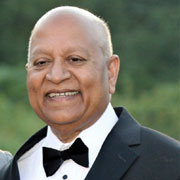 PM-0090
Sri Kota Subramanyam (Subu Kota)
[1966, ECE]
Further Academic Qualifications:
M.Tech (ECE) from IIT Kharagpur


Presently:
Chairman, The Boston Group
(Since 1986)


Professional Achievements:
He established Password Systems Inc in New York in 1971 which provided time sharing services for small Business units, suffered loss and sold it. In 1973, he established Shanti Yoga and promoted Yoga awareness in Corporates. In 1975 he established Artistic Maintenance Inc and provided maintenance services to Real Estate Market. He also established Ames Gas Inc in 1976 and operated biggest volume low price gas station. Later he worked in DG Corporation as Manager (Software Development) and was awarded the Best Software Programmer.
In 1979, he established Office Equity Realty Trust and acquired 200 income producing properties at least cost. He returned to DG Corporation in 1986 and was mentor to thousands of Indians who came to US among whom Sri Narayana Murthy & Sri Nandan Nilekani established Infosys in India. This was the beginning of the journey of software professionals to USA.
In 1986, he established The Boston Group and brought 2500 software professionals from India to US. In 1995, he developed the first Learning Management System. In 2003, he established NED Energy in Hyderabad for manufacture of high technology eco-friendly batteries. In 2013, he established RxAdvance Inc., a Pharmacy Benefit Management Co. which helped reduce avoidable medical costs. In 2014, he established Brainwave Science which works on Brain Fingerprinting.
Contribution to the Society:
He is a great Humanitarian and Charity is his passion. He was the Chairman of the Board of Trustees of "India Society of Worcester" which is one of New England's most vibrant Indian Associations with a purpose of encouraging people of Indian origin for promoting Indian cultural heritage and he donated $100,000 for ISW as Chairman. He was also Director of YMCA, Massachussetts and donated $100,000 for its programs. He has been the Chairman of Samarthanam Trust for the Disabled in USA from 2009.
He organized 2nd T20 World Cup Cricket Tournament for the Blind in 2017 in 10 cities in India and donated $1 million for the cause of Cricket for the Blind.
His passion is to help and motivate people to achieve their potential and to become entrepreneurs. He was most influenced by the book "How to Win Friends and Influence People" by Dale Carnegie.
In specific as Alumnus:
"Distinguished Alumnus - 2018". Patron (Since 13-11-2018) in the Hyderabad Alumni Association of JNTU College of Engineering Kakinada.