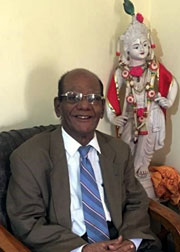 PM-0096
Sri Obilisetty Venkata Ramana Venugopal Rao
B.E.(Hons)(Electrical)[1961]
Retd. Chief Quality Assurance Engineer
Tata Steel, Jamshedpur
Further Academic Qualifications:
PGDBM, XLRI, Jamshedpur


Awards & Achievements:
Secured College First Rank in Bachelor of Engineering


Presently:
Settled in Hyderabad and leading happy retired life. Author of devotional books. Published several books on Sai and other Bhajans, sold more than 10,000 copies at Puttaparthy Sathya Sai Book Stall. Composed more than 6,600 Bhajans and Keertans.


Earlier:
Worked nearly four decades (37 years) in Tata Steel Engineering division since joining as Graduate Trainee in 1962. Highlights include coordinating the execution of the 60MW new Power House 4 during the 1980s, inspection, and quality assurance of various capital projects executed by Tata Steel to enable three million tons of steel production annually.
Took active role as Team Leader in number of Value Engineering Projects and Quality Improvement Projects, resulting in huge savings to company, and was awarded Outstanding Team Leader in several project implementations.
Took active participation in evening employee education at Jamshedpur Technical Institute (part of Tata Steel) in enabling higher education goals of working professionals. Participated as FIE and CE in various seminars and competitions as member of Institution of Engineers (India).
Served 1.5 years in Nevyeli Lignite Corporation during 1961 and 1962 in Thermal Power Plant Erection.
Contribution to the Society:
Took active participation in developing popular regional association ADLS (Andhra Dramatic and Literary Society) by serving as General Secretary and President for several years. The ADL Society provides cultural, education and literary development for more than one lakh Telugu speaking people settled in Jamshedpur for generations.
Passionate about helping needy engineering students by rendering financial help towards completion of studies. Over 30 students have benefited from funds provided.
Family Details:
Married to Jayasree since 1964; 2 children (Arunkumar settled in Hyderabad and Sashikala settled in California). Celebrated 1,000 Full Moon Darsan Function with extended family in September 2021 on completion of 81 years.