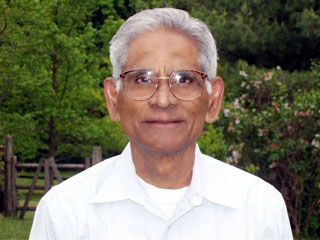 PM-0097
Sri Karamchetty Somayajulu
[1959, Mech]
Retd. Executive
US Army Research Laboratory
Further Academic Qualifications:
M.Tech., Ph.D.,


Awards & Achievements:
ARL Distinguished Professor at NPS


Presently:
Prolific generator of concepts.


Professional Achievements:
Executive and Deputy Division Chief, and Manager at US Army Research Laboratory.
Faculty member at IIT Kharagpur, India, and the University of Newcastle, Australia.
Visiting research faculty member at Drexel University, Philadelphia, USA.
Adjunct faculty member at University of Maryland University College.
ARL Distinguished Visiting Research Professor at Naval Postgraduate School, Monterey, California.
Senior Systems Engineer and Program Manager at Mechanical Technology Inc., Latham, New York.
Senior Systems Engineer, Mathtech Inc., Washington, D.C..
Principal Technology Investigator and Manager of Advanced Technology Projects, Martin Marietta Data Systems.
Program Manager, Energy & Environmental Analysis, Arlington, Virginia.
Holder of four patents.
Contribution to the Society:
Voluntary Business Mentor at US SCORE Association for over a decade and mentored over 2,500 entrepreneurs and small businesses.
Family Details:
Married and have two children.
In specific as Alumnus:
Vice President, Mechanical Engineering Students Association, 1958-59.
General Secretary, College of Engineering Association, Kakinada, 1957-58.
Won the Inter-collegiate Debating Competition (Telugu) at Mrs. AVN College, Visakhapatnam, 1957-58.
Mess Secretary, College of Engineering Hostel, 1956-57.