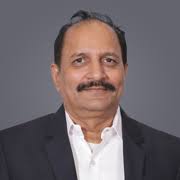 PM-0009
Sri Dasaradha R. Gude
[1982, ECE]
Chairman,
Soctronics and VEDA IIT
Further Academic Qualifications:
Master's Degree in Systems Management from Bajaj Institute of Management, Mumbai.
Presently:
Chairman,
Soctronics and VEDA IIT.
Earlier:
In the immediate past he was Managing Director, AMD (Advanced Micro Devices). He played a pioneering and pivotal role in bringing VLSI Design Tehcnologies to India particularly to Hyderabad, nurturing the competencies in VLSI Deisgn in this part of country by utilizing the talented human resources available and properly guiding and orienting the skill-sets to contemporary VLSI deisgn technologies.
He is the founder promoter and Chairman of Qual Core Logic Ltd., in Hyderabad, considered being one of the premier Design Houses in Hyderabad. Apart from this, he is the founder promoter and Chairman of VEDA IIT Pvt. Ltd., a premier Training Institute in Hyderabad, India, imparting quality training in contemporary VLSI Design and CuTe Solutions Pvt. Ltd., a high technology, world class solutions provider in embedded software, particularly in Audio and Video solutions.
Similarly in USA, Mr. Gude established IP and ASIC Design Services companies like Virtual IP Group, Pacific Semiconductor, etc., and was closely associated as Advisor or Angel Investor, for many other successful start-up ASIC Design companies.
In the early part of his career, he worked with SMOS and other companies in USA. He is in ASIC Deisgn industry of Silicon Valley for close to two decades and has been closely working with world class semiconductor foundries.
Under his guidance, the companies which he started in Hyderabad have tasted great success in development of Hardware IP cores, SoC Designs catering to VOIP and Audio solutions, providing ASIC Design services for Logic and Physical Design, development of several Audio Algorithms complying to latest standards and establishment of a premiere Institute offering first of its kind MS Program in VLSI Engineering in the country under the aegis of JNT University and APSCHE.
His strengths in ASIC Design flows and methodologies, flair in closely following the developments in EDA tools and their prominence in the Industry, understanding of Foundry technologies and processes, reliable working relationship with some world class foundries have served well the business interests of many companies promoted or guided by him with his direct and indirect participation and also many friendly ASIC Design companies though not associated with them.
He was CEO, ATI Technologies India Pvt Ltd.
In specific as Alumnus:
He is better known as Anjaneyulu to his classmates.
He is the President of the Alumni Association for the term of 2008&2009 and sponsored the meets in a big way.
In association with Dr Abburi Vidya Sagar and Sri Kishore Yelamanchili he inspired the organizing team for the Annual Alumni Meet - 2009 held on 20th December, 2009 belonging to 1979-83 batch alumni. The meet has been highly praised by everyone.