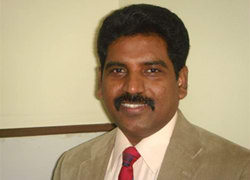 PM-0010
Sri Adapa Raja Suresh Kumar
[1983, ECE]
Founder & CEO,
SynchroServe Global Solutions Pvt. Ltd.
Further Academic Qualifications:
Masters Degree in Management from FMS, Delhi University
Presently:
Founder and CEO, SynchroServe Global Solutions Pvt. Ltd.
Earlier:
Sri Raja joined GE in 1996 as General Manager - Operations, GE Com India. The following year, he became Acting CEO and responsible for setting up shared services data network for GE Businesses in India.
He was then moved to GECIS in 1998 as VP & Chief Telecom Officer and responsible for building & managing International telecom infrastructure to support more than 400 data & voice processes.
He then became CEO of iProcess (Genpact - IT Services) in 2001 and transformed the company from Helpdesks to Managed IT Services with revenue growing from $ 4.6 Million to $ 42 Million in 4 years and employee base growing from 250 to 1600 during the same period.
Till recently, he was the Site Leader for GENPACT Hyderabad Operations with a total employee base of more than 8,000 and Sr VP responsible for Projects, Infrastructure, Logistics & BCP.
Sri Raja's previous work experience includes positions as Chief Technical Manager with Sprint RPG and Sr. Project Engineer with CMC Limited.
He also worked for MECON and International Meditek Pvt. Ltd., During this period, he held different positions with responsibilities ranging from Marketing & Sales, Technical, Operations, Business Development, Strategic Alliances and P & L.
In specific as Alumnus:
He was the first alumnus who responded to enroll as Patron of our Association without personally approaching him.
He led the team along with his other 4 (Four) classmates in organising the Annual Alumni Meet - 2009 on 20th December, 2009 which was a grand success and praised by all.
He was instrumental in launching this website www.ecosak-hyd.org of our Association.