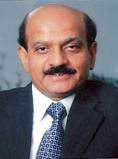 PM-0011
Dr. BVR Mohan Reddy
[1971, Mech]
Founder, Chairman & CEO,
Infotech Enterprises Ltd.
Further Academic Qualifications:
Two Master's degrees (from IIT, Kanpur and from University of Michigan, Ann Arbor, USA).
Awards & Achievements:
He was conferred a honorary degree of Doctor of Philosophy by Jawaharlal Nehru Technological University for his contribution to industry and society. Besides he has also won many accolades and awards.
Presently:
Dr. Mohan Reddy is the Founder, Chairman and CEO of Infotech Enterprises and is acknowledged as the pioneer of CAD/CAM in India. An entrepreneur and technologist.
He started his first venture in 1982 to bring high-end computing technology to India. He has around thirty years of Engineering and Management Experience.
The success of Infotech is a testament to his vision to build a customer focused organization delivering high quality solutions.
Contribution to the Society:
A distinguished academic performer that he himself is being a Graduate in Mechanical Engineering and holding two Master's degrees, Dr. Mohan Reddy believes education is an enabler for societal development and is involved several in initiatives like adoption of schools and mid-day meal programs etc.